Type of activity: Activity / Concert
Piano Festival
Recital by Jean-Paul Gasparian
May 26, 2023 20:00 - 21:00
Echoing the "Children of Impressionism" exhibition, the Musée des impressionnismes Giverny invites you to attend the third edition of its piano festival from May 26 to 28, 2023!

Friday, May 26, discover the music of Debussy, Chopin or Rachmaninoff with renowned pianist Jean-Paul Gasparian.
Public: Adults, Families
Duration: 1h
Price: €20 | €18
Purchase on our website (increased price for management fees) or at the museum cash desks, subject to availability. No reservations can be made by phone.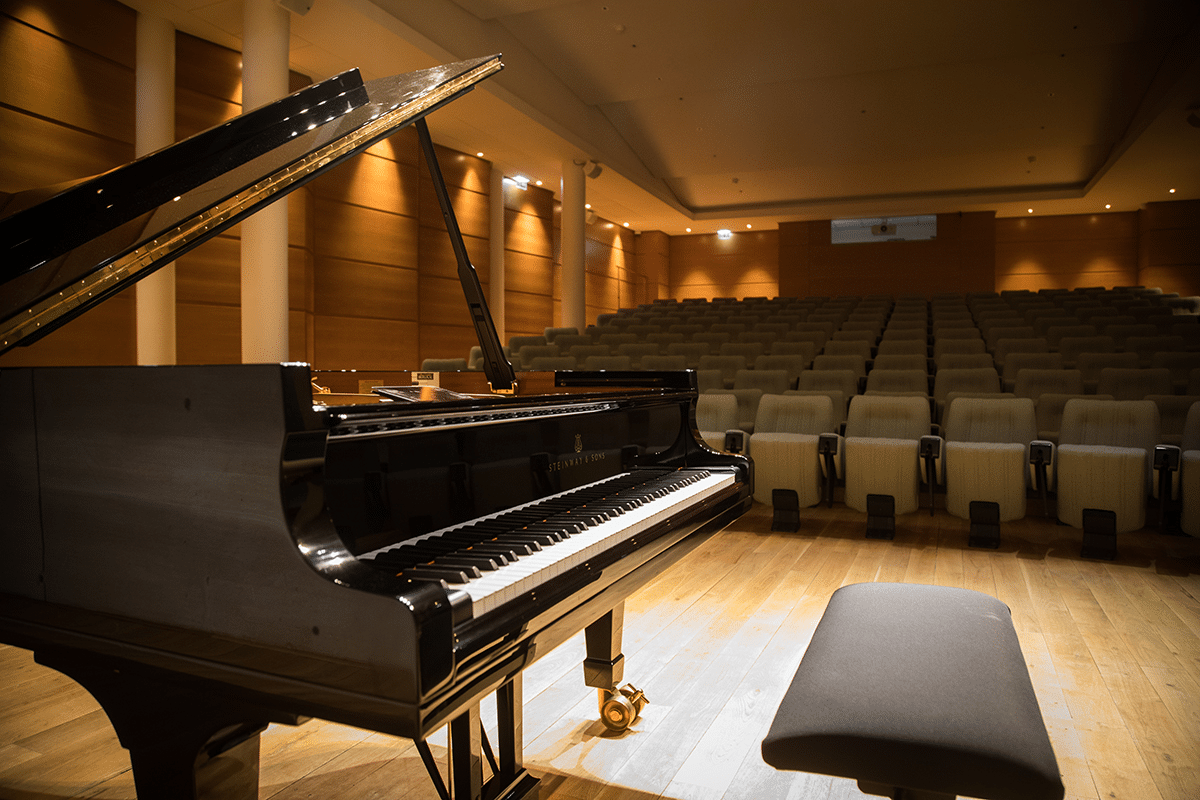 Program
Jean-Paul Gasparian
Debussy: Preludes, Book 1
Chopin: Ballade n.3 op.47
Debussy: Rondes de Printemps (transcription for piano by Gérard Gasparian)
Rachmaninoff: Sonata n.2 op.36
The Piano Festival
The musée des impressionnismes Giverny invites you to attend the third edition of its piano festival. International pianist Vanessa Wagner has done the honor of being its artistic director.
With an extensive musical program, from electro to baroque music, and chamber music to jazz, the museum has already invited both cellists Gautier Capuçon or Camille Thomas but also the Rouen Opera and Les Arts Florissants de William Christie.
This year, Jean Paul Gasparian will inaugurate this Festival on Friday evening, followed by David Kadouch on Saturday evening, and finally Marie-Josèphe Jude and Vanessa Wagner will close this event in style with a recital for four hands.
Jean-Paul Gasparian
Born in 1995 in Paris to musical parents, Jean-Paul Gasparian was unanimously admitted to the CNSM in Paris at the age of 14, where he brilliantly obtained his Master's degree in 2015. His teachers were Olivier Gardon, Jacques Rouvier, Michel Béroff , Laurent Cabasso. After a 3rd cycle at the CNSMDP with Michel Dalberto and Claire Désert, as well as at the Royal College of Music in London with Vanessa Latarche (Artist Diploma), he perfected his skills with Elisso Virsaladze and Tatiana Zelikman.
Jean-Paul is the winner of the prestigious European Competition in Bremen (Germany) in 2014, but also winner of the international competitions José Iturbi (Spain) in 2015, GPIPL in Lyon (France) and Hastings (England) in 2013. He won the Cziffra Foundation prize in 2014 and became a laureate of the Rheingold Foundation in October 2016. The 1st Philosophy Prize at the Concours Général des Lycéens de France was awarded to him in 2013.
He has been nominated for the Victoires de la Musique Classique 2021 in the Instrumental Soloist Revelation category. In February 2020, he was awarded the Thierry-Scherz Prize at the Sommets Musicaux de Gstaad, which led him to the recording of a CD with orchestra for the Claves label.
Jean-Paul has performed with the Orchestre National d'Ile-de-France, Bremer Philharmoniker, Berner Symphonieorchester, Robert-Schumann-Philharmonie, Nordwestdeutsche Philharmonie, Musikkollegium Winterthur, National Chamber Orchestra of Armenia, Orquesta Sinfónica de la Región de Murcia, Orchestre de l'Opéra de Rouen, Orchestre Régional de Normandie, Orchestre de Chambre de Toulouse, Orchestre de Nouvelle-Aquitaine, Orchestre Symphonique de Caen…
He plays in recital or with orchestra in prestigious halls such as the Philharmonie de Paris, Salle Gaveau, Fondation Louis Vuitton, Auditorium de la Maison de la Radio, Salle Molière (Piano in Lyon), Tonhalle in Zürich, Laeiszhalle in Hamburg , Die Glocke in Bremen, Mozarteum in Salzburg, Kolarac in Belgrade, and in festivals such as La Roque d'Anthéron, Radio-France Festival in Montpellier, Menton Festival, Piano aux Jacobins, Printemps des Arts de Monte-Carlo, Festival de Saint Denis, Épau Festival, Lisztomanias, Les Flâneries de Reims, Piano Folies du Touquet, Nohant Chopin Festival, The Soloists at Bagatelle, Colmar International Festival, The Musical Grands Crus, The Spirit of the Piano, Musical Summits of Gstaad, Piano at Saint-Ursanne, Schleswig-Holstein Festival, Festspiele Mecklenburg-Vorpommern, Kissinger Sommer Festival, Armenia International Music Festival.
Among the highlights of this 2022/23 season: the French premiere of Howard Shore's "Ruin and Memory" Concerto with the Orchester Philharmonique de Radio France conducted by Bastien Stil, the Orchester Nürnberg Symphony with Jonathan Darlington (Concerto by Scriabin), the Orchester d'Avignon with Rani Calderon (Rachmaninov No. 1), the Orchester Colonne with its musical director Marc Korovitch (Ravel in G major)… Jean-Paul will also give recitals in France, Germany, Switzerland, Italy, including the prestigious Teatro San Carlo in Naples.
The release of his Chopin album on Evidence Classics was enthusiastically received by the international press ("A Major Chopin Release" – International Piano Magazine, "A Highly Accomplished Chopinist" – BBC Music Magazine). In spring 2022, Jean-Paul published two new CDs crowned by the international press: his third solo album entirely devoted to Rachmaninoff (Evidence Classics) and his first recording with orchestra, Rachmaninoff's Piano Concerto n.2 and the Ballade Heroic by Arno Babadjanian, with the Bern Symphony Orchestra conducted by Stefan Blunier (Claves).
Jean-Paul signed an exclusive contract with the Naïve label in September 2022. The first recording devoted to the works of Debussy will be released in the spring of 2023.
Artist in residence at the Singer-Polignac Foundation since 2016, supported by the Safran and ADAMI foundations for Music, Jean-Paul has also been a Steinway Artist since 2017.
This may also interest you