Maximilien Luce
(Paris, 1858 - Paris, 1941)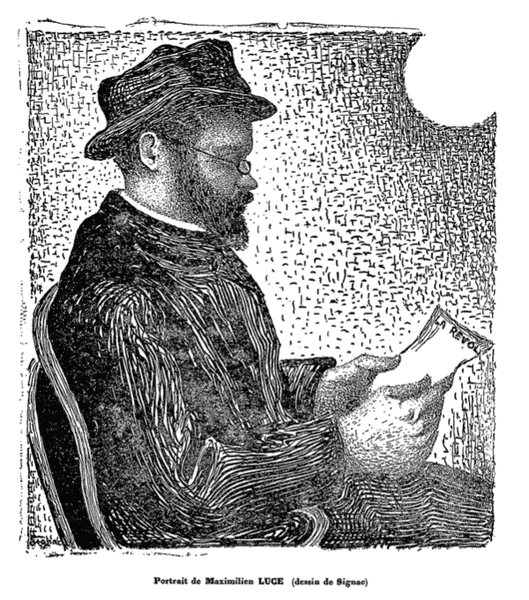 A politically active and multi-talented artist, Maximilien Luce was one of the most stimulating personalities of Neo-Impressionism.
Neo-impressionist and anarchist
At the age of 14, Maximilien Luce began his apprenticeship with a wood engraver and took evening courses in a drawing school. Having become an engraver, he trained as a painter at the Swiss Academy and in the famous Carolus-Duran's studio.
In 1987, Luce exhibited at the Salon de la Société des artistes indépendants and met the neo-impressionists Camille Pissarro, George Seurat and Paul Signac. He then adopted the division of tones and began using rare chromatic harmonies in his representations of the working world and his often nocturnal landscapes. From 1897, he gradually renounced neo-impressionism and turned to a freer, almost fauve, treatment of colour.
After the assassination of President Sadi Carnot in 1894, Luce was arrested because of his anarchist beliefs, that he shared with all of his Neo-Impressionist. In prison, he found himself with the art critic Félix Fénéon, accused in the Trial of the Thirty. He was released on August 17 for lack of serious evidence against him.
Painter of workers and history
In October 1895, Luce went to Brussels for the first time, then to Charleroi, where he discovered a region transformed by industry. He created a deeply original series on the so-called « Black Country », where he captured, without sentimentalism, the powerful poetry of this universe of work, steam and molten metal.
In Paris, he described the vast building site of the city: the continuation of the works undertaken by the prefect Haussmann, the universal exhibitions of 1889 and 1900, the construction of the metro. He favoured outdoor scenes, frank colours, the dizzying geometry of scaffolding. In his paintings, Luce showed the dignity of effort through the figures of construction workers. He reserved his denunciation of social injustices to the numerous illustrations that he contributed to anarchist publications.
Luce turned to history painting in 1903, and depicted the violent repression of the Commune by the Versaillais, which he had witnessed as a child. During the war, he chose to show the Parisian railway stations filled with resigned families, exhausted soldiers on leave and the return of their wounded comrades.
In 1917, Luce discovered Rolleboise, where he bought a house in 1920. He often visited Claude Monet in nearby Giverny. On the banks of the Seine, he found peace and calm and practiced a more serene art, reconnecting with the themes of Impressionism.