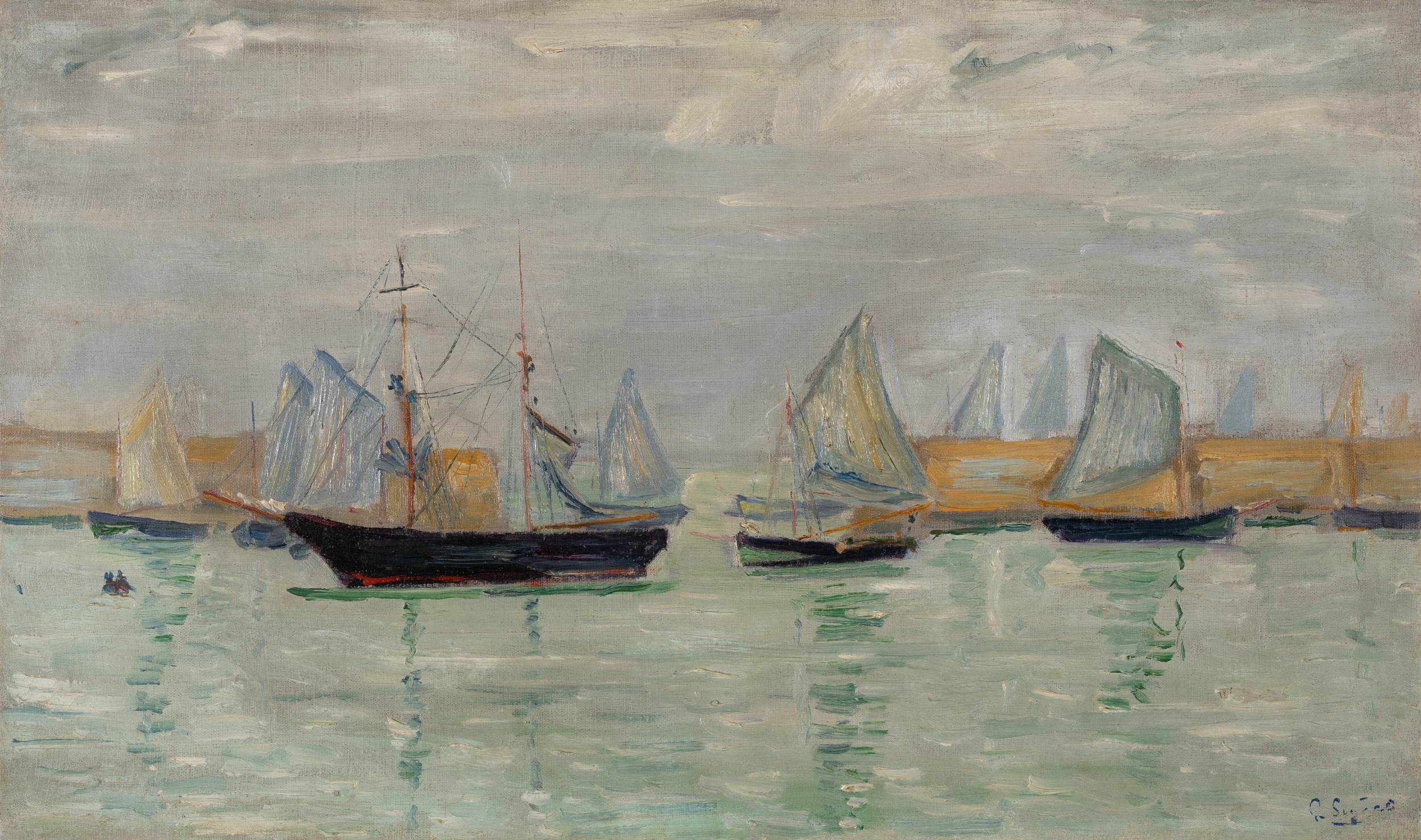 Also known as Divisionism or Pointillism, Neo-Impressionism relied on scientific theories of colour to give paintings a new radiance.
Painting and science
In 1884, the first exhibition of the Société des artistes indépendants was organised as a protest against the official Salon's conservatism. There, Paul Signac saw Bathers at Asnières by Georges Seurat. Impressionist by its theme, the canvas stood out for its static and monumental character. The two young painters became friends. Inspired by the scientific theories of the time, and in particular on Michel-Eugène Chevreul's Law of Simultaneous Contrast of Colors, they sought to give a new luminosity to their painting.
Thanks to Armand Guillaumin and Camille Pissarro, who were interested in their research, they were invited to participate in the eighth and last exhibition of the Impressionists, in 1886. Seurat showed A Sunday Afternoon on the Island of La Grande Jatte. His technique had evolved and was now based on the regular and orderly application of small dabs of pure colour over the entire surface of the canvas. The colours that the artist had observed were carefully divided into dots and then recomposed in the eye of the spectator, creating an extraordinary luminous vibration. In 1886, art critic Félix Fénéon coined the term "Neo-Impressionism" for this new way of painting.
Camille Pissarro and his son Lucien were among the first Neo-Impressionists. They were soon joined by Maximilien Luce, Henri-Edmond Cross, Charles Angrand, Albert Dubois-Pillet, Louis Hayet… Thanks to the favorable reception that Seurat and Signac received at the Salon des XX, in Brussels, many Belgian artists embraced Neo-Impressionism. Anna Boch, Théo Van Rysselberghe, Georges Lemmen and William Finch adopted the dotted brushwork. Jan Toorop, a Dutchman familiar with the Belgian art scene, also experimented with this scientific approach to Impressionism, before turning to Symbolism.
Light of the South
After Seurat's untimely death in 1891, Paul Signac found himself the sole leader of the neo-impressionist movement. His affable and social character contributed to making his theories known far beyond the Impressionist circle. In 1899, he published a theoretical treatise, From Eugène Delacroix to Neo-Impressionism, wich was read by many young painters at the turn of the century.
In 1892, Signac discovered Saint-Tropez and decided to settle there. The small dots of pure colour allowed him to transcribe the glare felt in front of the Mediterranean light. Other painters followed in his wake, such as Théo Van Rysselberghe and Henri-Edmond Cross. Their presence contributed to making the French Riviera the place where new generations of artists came to experiment with innovative painting styles. It was thanks to the Neo-Impressionists that future Fauve painters like Henri Matisse and Henri Manguin, discovered the light of the South.