Pierre Bonnard
(Fontenay-aux-Roses, 1867 - Le Cannet, 1947)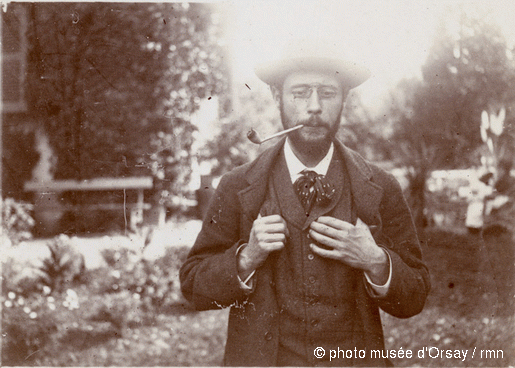 The Nabi painter Pierre Bonnard, master of colour and light, was also Claude Monet's neighbour and friend.
The Nabi years
Born in 1867 in Fontenay-aux-Roses, Pierre Bonnard shared his childhood between this town of Île-de-France and the family property of Grand-Lemps, in Isère.
In 1887, he enrolled at the Julian Academy, a private school of painting and sculpture. There he met Paul Sérusier, Maurice Denis and Paul Ranson. With them, he formed the Nabis (Hebrew for "prophets"). They would soon be joined by Édouard Vuillard and Ker-Xavier Roussel, whom Bonnard met at the École des Beaux-Arts in 1889.
Fascinated by the aesthetics of Japanese prints, whose sinuous lines and bright flat colours influenced his paintings and lithographs, Bonnard earned the nickname "Very Japanese Nabi ».
The conquest of colour
At the turn of the century, Bonnard rediscovered nature and colour, after the muted tones and the urban scenes of his Nabi years. He stayed more and more often outside Paris, in the Seine Valley and in the South of France. Impressionism inspired him, but he wanted to go beyond its direct translation of nature. Colour, according to him, should be a means of expression above all.
In August 1912, he bought La Roulotte in Vernonnet, a district of Vernon located just five kilometres from Giverny. The house was modest, as its name, which means a horse-drawn caravan, suggests. It overlooked a large and luscious garden that descended to the Seine. Bonnard painted the views from the terrace and the house's many openings. He captured the rich greenery of the Normandy landscape, sometimes giving it almost fluorescent hues.
Friendship with Monet
A relationship of friendship and mutual respect grew between Bonnard and Monet, who had become neighbours. Despite the difference in generations, they shared the same interest in Japanese art, nature and gardens. Monet regularly came to La Roulotte by car, to examine Bonnard's new paintings, and often invited him to his home in Giverny.
This friendship lasted until Monet's death in 1926. The same year, Bonnard bought a villa in Le Cannet, on the French Riviera. With Monet gone, he stayed less and less in Vernon. He sold La Roulotte in 1938, and settled permanently in Le Cannet. There he depicted his new garden and the daily rituals of his wife Marthe, in ever more daring colour combinations.