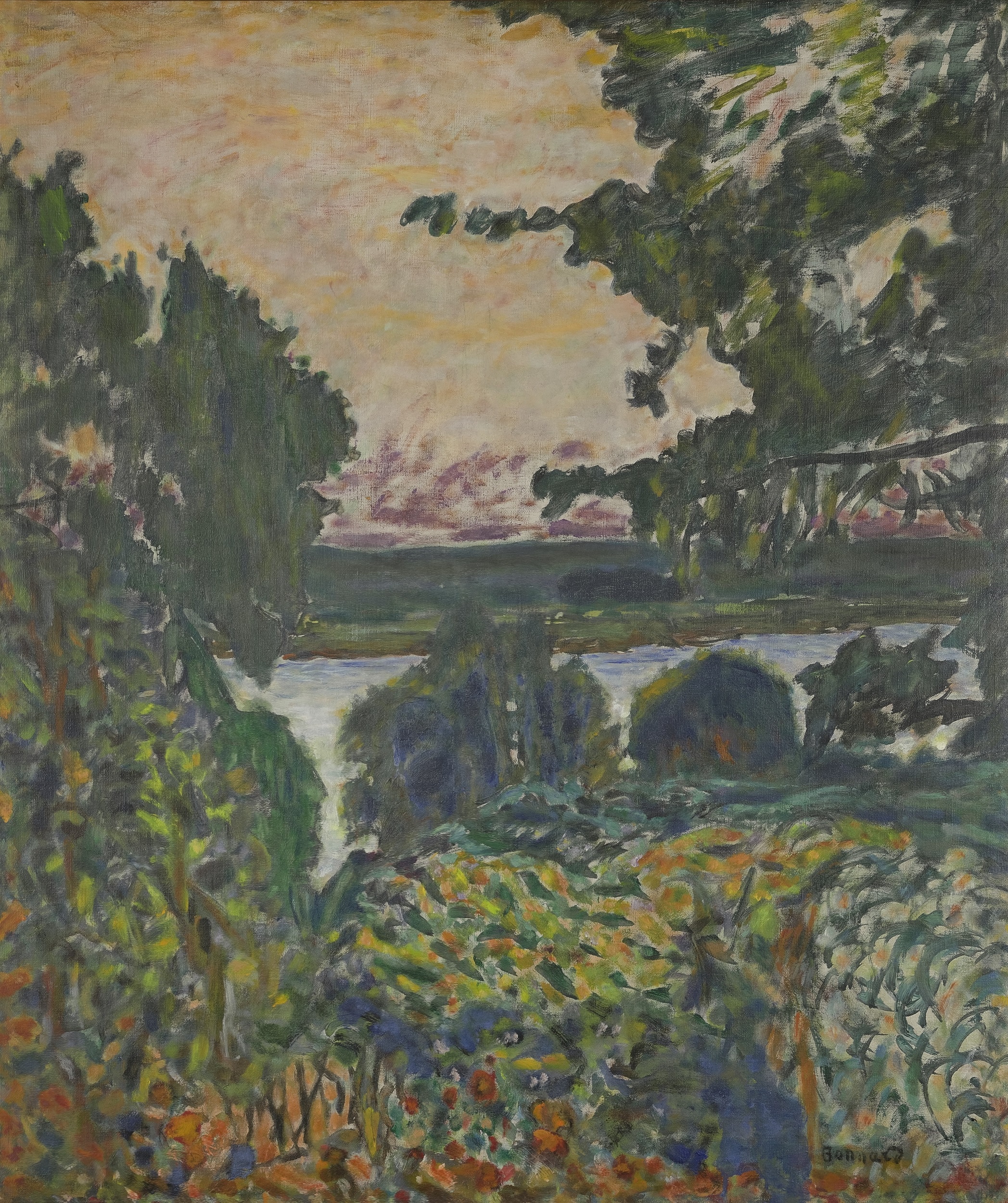 During the last decade of the 19th century, the Nabis invented a new plastic language, with simplified and ornamental forms.
The example of Gauguin and Japan
During the summer of 1888, Paul Sérusier met Paul Gauguin at Pont-Aven and painted on his advice a small landscape which would come to be known as The Talisman. "How do you see these trees […]?" had asked Gauguin. "They are yellow. Well, use yellow; this rather blue shadow, paint it with pure ultramarine […] ".
Back in Paris, Sérusier showed the painting to his fellow students at the Académie Julian: Pierre Bonnard, Paul Ranson, Maurice Denis, Henri-Gabriel Ibels. They were struck by Gauguin's synthetic approach: the bright flat colours separated by dark contours, the lack of detail. Others soon joined them: Édouard Vuillard, Ker-Xavier Roussel, Félix Vallotton, Georges Lacombe… They called themselves the Nabis, from the Hebrew word for prophets.
Fascinated by the Japanese prints they discovered during an exhibition organised in 1890 at the École des beaux-arts in Paris, the Nabis were inspired by these images to develop their new stylistic grammar, with flowing lines and simplified shapes.
The importance of décor
There were two distinct orientations within the Nabis. One, turned towards the sacred, was led by Maurice Denis and his desire to renew religious art. It owed much to Gauguin's simplification of forms. The other chose its subjects from modern life (portraits of elegant women, interior scenes, women in the bath, etc.). Bonnard and Vuillard were its best representatives. They very often played on the juxtaposition of decorative patterns (wallpapers, printed fabrics) and atypical framing.
The Nabis were not solely interested in easel painting. Their desire to make the arts enter all aspects of daily life led them to take an interest in the decoration of private and public interiors, printmaking, fans, screens, stained glass windows, tapestries …
A reaction to both Academism and Impressionism, the Nabi group lasted only about ten years. Nevertheless, thanks to their spirit of openness and their richness of inspiration, these artists invented a plastic language which had a lasting impact and contributed to the emergence of the avant-garde of the beginning of the 20th century.