The American artists' colony at Giverny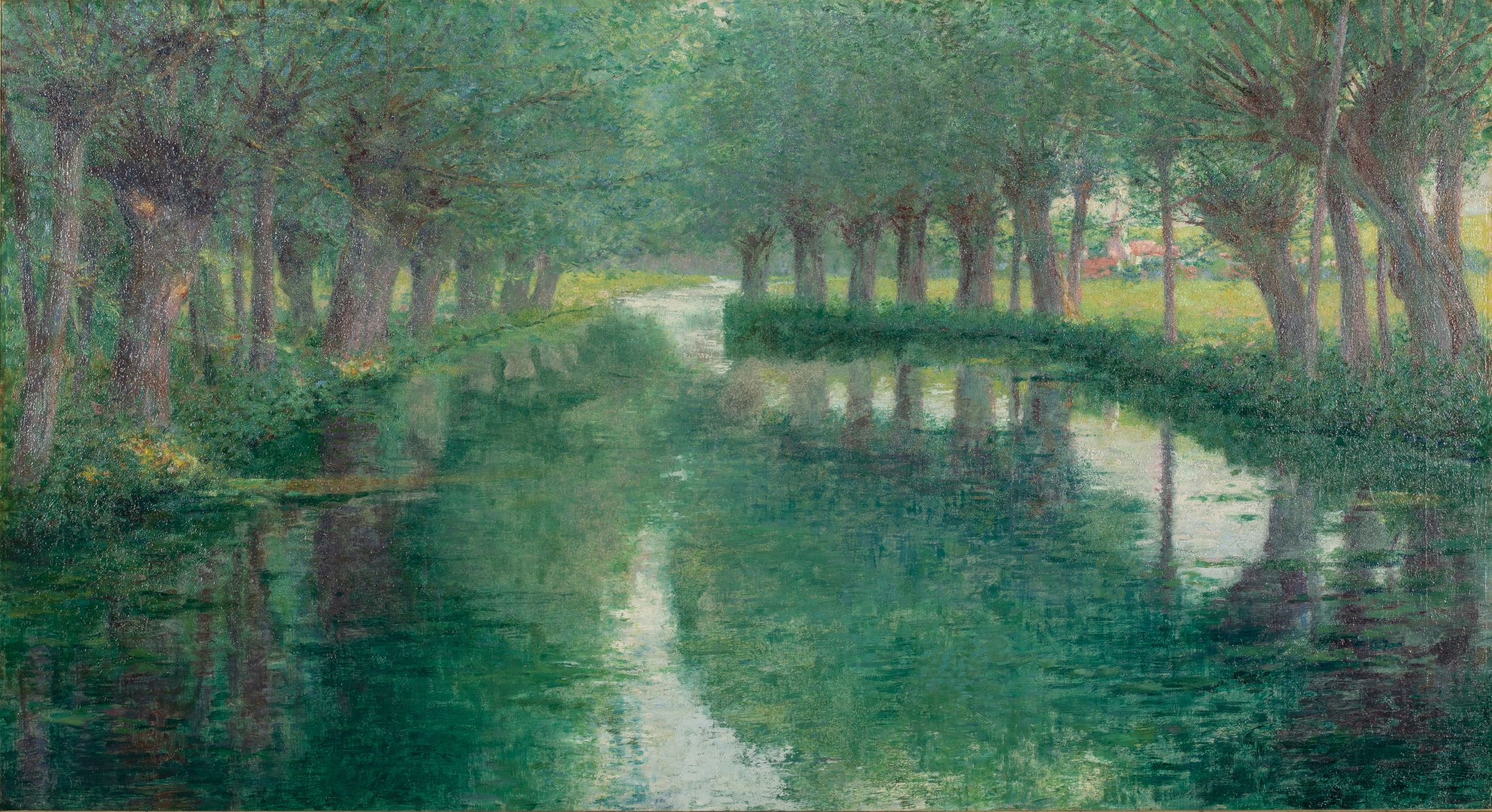 From 1885 to the First World War, Giverny hosted an art colony which made the village one of the birthplaces of American Impressionism.
The training of American artists in France
After the end of the American Civil War in 1865, many American artists made the trip to Paris to discover the latest trends in European painting. They admired the collections of the Louvre, visited the exhibitions of the Salon, and trained in the studios of great academic painters.
At the end of the 1880s, when the impressionist exhibitions were coming to their end, the works of Monet, Renoir, Degas began to interest art collectors in the United States. In France, young American artists were turning to the practice of outdoor painting. Each summer, they left Paris and its art academies for the countryside, where they gathered in villages like Barbizon, Grez-sur-Loing, Pont-Aven or Giverny, which had become Claude Monet's residence in 1883.
Painting outdoors in Giverny
From 1885 until the First World War, many Americans frequented Giverny. They were charmed by the village, its inhabitants, and by the dynamism of the community of artists who eventually gathered there. On the banks of the Epte, in the fields and hills which surround the village, the painters experimented together with the bright colours and fragmented brushwork of Impressionism.
From 1887, the Baudy family, who ran the village grocery and café, offered rooms to these visitors. The Baudy hotel soon boasted studios for painters, tennis courts, and a menu adapted to American taste. It also hosted numerous parties.
John Leslie Breck, and Theodore Robinson, who were among the first American artists to visit Giverny, befriended Monet, as did Lilla Cabot Perry and her family, who regularly rented a house close to Monet's own between 1889 and 1909.
Towards a new Impressionism
Some artists lived for several years in Giverny, like Californian painter Guy Rose, or married artists Mary Fairchild and Frederick MacMonnies. Theodore Butler settled permanently in the village after his marriage to one of Monet's stepdaughters, Suzanne Hoschedé. His continued presence contributed to the cohesion of the American colony.
After 1900, a new generation of artists arrived in Giverny. Frederick Carl Friesekeand Richard E. Miller preferred human figures, gardens and scenes of family life to the landscapes of the Norman countryside. They developed a decorative Impressionism which combined the light effects of the Impressionists and the decorative concerns of the Nabis. Frieseke and Miller, along with other artists working in the village, exhibited in 1910 at the Madison Art Gallery in New York under the name "Giverny Group".
Unlike many American expatriates, Frieseke chose to stay in France during the First World War, the outbreak of which ended the existence of the American artists' colony in Giverny.